Everyone needs a place like this.
A place where pressure to be busy and accomplish disappears.
A place where the mind quiets.
A place where words are not needed.
A place where everyone is welcomed with unity and respect.
For most of us, our surroundings are cluttered with projects just waiting to be attended. When we try to relax, the papers on the coffee table need attention, the dust bunnies are nipping at our heels, the unfinished projects ask to be completed, and the unanswered emails call. It's as if once we have been active in a space, it holds active energy. The challenge is to override the intensity that's alive in order to get to a deeper level of quiet.
Going on vacation is one way we try to get away from the noise of doing. "What did you do on your vacation?" most people will ask. Even on Facebook, we post the sights we have seen, the food we've eaten and the many adventures we've taken. Rarely do you say, "I've had the most wonderful vacation, doing nothing." What if the greatest adventure is just being? Not doing anything, just being and having a place that facilitates that delicious state.
Last week, I was able to return to my sweet spot. A place where I first learned the depth that can be experienced of profound letting go and inner peace. When I name this place (for those of you that it is familiar) notice your visceral reaction……..
Harbin Hot Springs. And specifically, the sacred waters of the warm meditation pool.
For 3 1/2 years, while recovering from the fire that destroyed it, I have longed to return. I anticipated this venture might invoke many responses and still I had a lovely surprise.
The surprise was not the blackened trees that lined the road up to Harbin. It wasn't the tears of grief for the devastation of what made up it's character, lush greenery, old lodging structures, and the Temple. The surprise wasn't the joy of seeing life sprouting from the trunk of the big fig tree that had canopied the warm pool, nor the compassionate Quan Yin statue sitting serenely in it's spot. My surprise came while blissfully meditating in the pool, one thing made it more sweet, Thomas.
I nestled against his warm chest. With the body-neutral water already dissolving the edges of our skin, our bodies melted together. Without thought, our breath synchronized and the words came to me, "I have missed who we are, when we are here."
The noise of our busy lives disappears in these waters and tension between us is replaced with a tinge of sensual excitement. We discovered a newness about each other here. We were initiated into the magic of SkyDancing Tantra at Harbin. For a moment, we returned to innocence, curious, love struck. What could be more lovely than calm, pleasurable excitement?
The waters of Harbin flow.
The heart of Harbin beats.

Harbin's a special place. So special, I feel it's presence in my bones. Although it has changed due to the fire in 2015, each of us carry it's essence alive within us. During moments of distress when I seek refuge, I visualize walking down the steps leading into the warmth of the meditation pool. Aaahhhh.

Until we soak in the waters again, Thomas and I find elements of deep connection by dropping into our state of being every week when we create our Tantric practice of Sacred Space.
~ Sara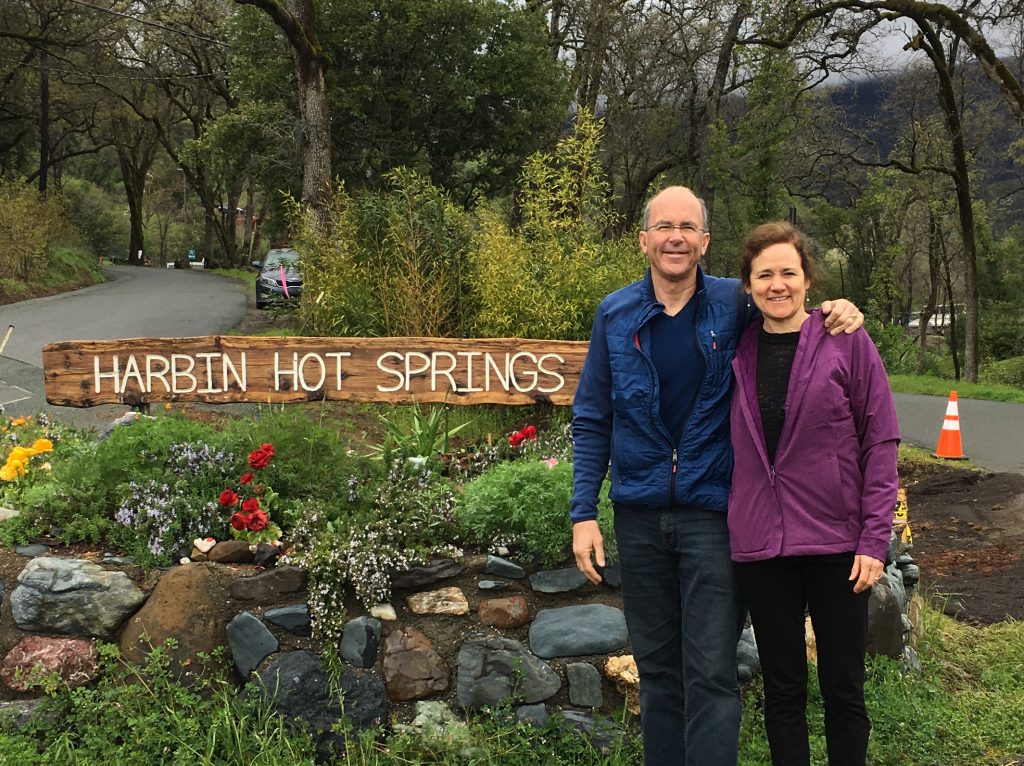 Establish a sacred place in your home or nature to visit for reflection, meditation and quiet. Savor these times, drinking them into your whole being. The real gift to yourself, is returning to your personal place of being. Return again and again, with mind, body and spirit, either visualizing how your body felt, the sensory details and emotions, or in person.