We are super excited to announce that we are back IN PERSON!  Re-discover what it's like to be in community again!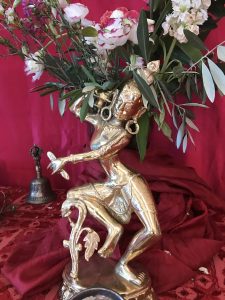 Tantra is a path of sensual awakening and exploration that helps us move out of ordinary states and enter states of heightened feeling and awareness.  Simple, accessible practices can enhance the pleasure, sensuality, and satisfaction of your everyday experience.
We use the transformative power of community, mindful movement, touch, breath and sound to cultivate more pleasure, joy, and intimacy. This allows us to live more fully and more consciously.
Let's celebrate our wonderful connection!
Friday, Nov 4, 2022    7pm – 9:15pm Central
Doors are locked at 7:05pm
$25 in advance, $35 after 5pm
South Minneapolis (location given upon registration)
Presented by Sara & Thomas Stout
Please register and pay now in order to reserve your place. An RSVP does not secure your space or early bird discount.
Covid Policy: It's awesome that we can finally get together again and we want to create as safe a space as possible. If you are experiencing any covid-like symptoms the day of and/or if you have recently been exposed to someone who is sick, please do no attend. We ask folks to be aware of whether additional symptoms may be present such as unexplained fatigue, muscle aches, or diarrhea.  If you need to cancel due to health concerns, we can apply your payment to a future event.
How to Prepare:
This is a 1-2 Chili Pepper experience and has no nudity. You are asked to wear comfortable clothes and can participate as much or as little feels comfortable. Come alone or bring a friend. Open to all genders and orientations ages 18 and up. We encourage you to open your heart and see all other participants as the divine beings they truly are. We do not attempt to gender-balance and there will be opportunities to work with people of all genders.
Our classes are designed to be relevant and accessible to all sexual orientations, including folks who are on the asexual spectrum. There are gender-neutral restrooms available. It is our commitment to make our events accessible to everyone regardless of economic status. Contact us if you need financial assistance. We ask that you refrain from wearing scented products to respect those with chemical sensitivities. There is an elevator to the second floor with a long hall leading to Suite 231. If you have physical limitations where sitting or lying on a mat is uncomfortable, please contact us in advance at 763-577-0456.
We look forward to being with you,
Sara & Thomas
**We ask that you refrain from wearing scented products to respect those with chemical sensitivities.**