Chakra Breathing Meditation
Chakra Breathing Active Meditation is a powerful full-body enlivening experience. Breathe and move the energy through your core as it charges all your chakras and every aspect of your life. Engage your true core power!
Through this chakra meditation, you'll find yourself:
-releasing stress
-decluttering your psyche
-healing old wounds
-focusing on the present
-tapping into your natural potential.
Through breathing and movement, you clear out the things that get in the way of loving and expressing yourself. The possibilities are endless – each time is a magical journey and every meditation is unique!
Chakra Breathing Active Meditation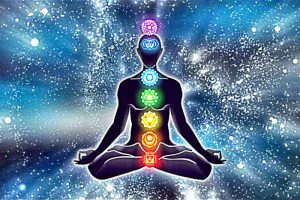 Tuesday, November 9, 2021
7:30-9:00am PST, 9:30-11am CST, 16:30-18:00 Paris

Online Event! Sliding scale $5-25 – select amount that's right for you!
Broadcast from our Tantric Temple
(Zoom link sent after registration)
Registration closes 15 minutes prior to starting.
How to prepare?
Create your home space to support yourself in meditating, moving, sitting, and lying down. Our virtual room will open about 10 minutes before the start so you can troubleshoot any technical difficulties. We recommend you have drinking water and tissues nearby. Wear clothes in which you can move comfortably.  Layers are preferable to support you in times of high or low energy.
What is an Active Meditation?
There's more than one way to meditate. If you've tried traditional mindfulness meditations and found it difficult to calm your mind while sitting still, then you might find an active meditation especially helpful. Unlike what might come to mind when you think of "meditation", active meditation uses motion to help you calm your mind–so be prepared to move around!
Active Meditations are great for beginning or experienced meditators. The meditation itself lasts about an hour with some welcoming instructions and time to set intentions at the beginning. Online access closes at 9:40 so as not to interrupt the process. There will be an opportunity to integrate this transformative experience afterwards.
Bookings
Bookings are closed for this event.