THE KARUNESH HEART CHAKRA MEDITATION is a proven exercise based on the Sufi tradition that dates back hundreds of years. It is an especially simple breath and movement exercise, which can help relieve inner tension, allowing the energy of the heart to flow freely again. The heart chakra is the medium to all other chakras.
When the heart chakra is open, all energies can flow freely. When there are no inner blockages, one feels deeply united with self and all other creations. With the heart open, you feel sheltered and radiate warmth, satisfaction and heartiness. Love arises spontaneously for the sake of love.
But if you have inner blockages, you will tend to feel rather weak, even easily hurt, and you are apt to close up because of your fear of being rejected. In this state you cannot or will not want to participate in the natural flow of life.
Connected to the heart chakra are all varieties of green, similar to what nature offers, as well as a very tender pink. Corresponding with these colors, all green and pink precious stones are valued for their harmonizing effect like emerald, jade and rose quartz.
Why do a Heart Chakra Meditation?
There are many reasons why the functions of one or more chakras can be out of balance. Overwork, stress, emotional pressure, and many kinds of trauma are some of the probable causes.  There are many healing methods that act upon the Chakras, but the connection of breath, sound and movement exercises, are among the most successful and powerful.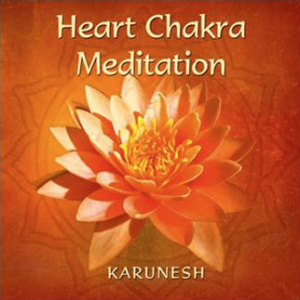 Karunesh Heart Chakra Meditation
Tuesday, November 2, 2021
7:30-9:00am PST, 9:30-11am CST, 16:30-18:00 Paris

Online Event!   Select amount that's right for you!
Broadcast from our Tantric Temple
(Zoom link sent after registration)
Registration closes 15 minutes prior to starting.
How to prepare?
Create your home space to support yourself in meditating, moving, sitting, and lying down. Our virtual room will open about 10 minutes before the start so you can troubleshoot any technical difficulties. We recommend you have drinking water and tissues nearby. Wear clothes in which you can move comfortably.  Layers are preferable to support you in times of high or low energy.
Active Meditations are great for beginning or experienced meditators. The meditation itself lasts about an hour with some welcoming instructions and time to set intentions at the beginning. Online access closes at 9:40 so as not to interrupt the process. There will be an opportunity to integrate this transformative experience afterwards.
Bookings
Bookings are closed for this event.